Dear Google… A Guest Post from the Award-Winning Pat Friesen
These days, there are a bazillion and one "experts" who can give you "12 Sure-Fire Tips on How To Write Like Darth Vader."  Shockingly {sarcasm}, these same "ninjas" can also give you the exact tips in the immortal words of Yoda, Luke, Chewbacca, R2D2, C3PO, Hans Solo, Princess Leia, Jabba the Hutt and Boba Fett.  Unfortunately, 99.9% of them couldn't create a control package to save their lives.  Why?  Because it's much more difficult to do a lot of this direct marketing stuff than it is to talk about it.  Today's guest post is from Pat Friesen, one of the VERY few direct marketers who is good at both — doing and talking.  She's a creative genius (a real one, not just someone who has 50,000 followers on Twitter), a strategist, and a teacher.   You'll find a lot of her stuff here.  It's different from most of what you'll see online because, well, it actually works.   (I know.  I know.  We pesky results-oriented type folks like to pay our bills.  It's an issue.)
Dear Google,
First, I want to thank you for all your help.  I am a big fan and loyal follower.
When it comes to comparison shopping, online research, travel planning, and a long list of otherwise time-consuming tasks … well, you're the best!   
Google, you are my library, Yellow Pages, and shopping mall — all in one — and I appreciate the time and frustration you save me.
While I'm clueless about how you magically match the minutest details to my search queries, I'm not clueless about direct mail and what makes it work.
That's my second reason for writing.  There's a darn good chance the 6×9 letter mailing I recently received from you didn't perform as well as you'd hoped it would.
As a token of my appreciation for all you do for me, I'd like to offer you some free professional advice.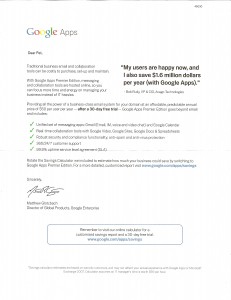 While there are dozens of best practices for leveraging your direct mail success, here are some  tips to get started.  (By the way, these are tried-and-true tactics applied by direct response writers across all media – both on- and offline.)
Target the right people with the right message.  This is direct marketing's Golden Rule.  I know you thought you were targeting business owners with your mail piece.  And, yes, I fit that description.  Here's the hitch.  That cardboard See-How-Much-We-Can-Save-You Calculator you enclosed for me calculated savings for companies with 10 to 2,500 employees. I have 1 ½.  So, you missed the mark with me and probably many others.
Next time, make sure you understand who is in the audience you're reaching so your message is relevant and your offer provides genuine value.
Use hot spots to engage skimmers and scanners.  Hot spots are where your eye goes first whether it's scanning envelopes, letters, emails or Web pages.   Hot spots – including first and last sentences, bulleted copy and a letter or email's P.S. — are the places to put your important benefits (not features) t grab the attention of skimmers and scanners.  Unfortunately, your letter's hot spots earned a D+.  Here's why. 
Your first sentence is a ho-hum statement of fact with no reader benefit: "Traditional business email and collaboration tools can be costly to purchase, set-up and maintain."  Yeah … so ….  Next time lead with an attention-grabbing opener focused on either the enclosed free Savings Calculator or your 30-day free trial.
Later in the letter, you highlighted 5 features (not benefits) with eye-catching bullets and no explanation of their benefit.  Your reader wants to know, "What's in it for me?"   What does a "99.9% uptime service level agreement (SLA") do for me?  What does it mean to have "robust security and compliance functionality?"    
Here's a biggie.  Your letter lacked the hottest of all hot spots — a P.S.  Studies show 30% of scanners and simmers read the P.S. first.  A letter without one misses a golden opportunity to reel in more readers.  So remember, hot spots are magnets that draw people into your direct mail, email, home or landing page
Capitalize on your offer.  Offers entice people to do what you want them to do – click, call, come in.  They push fence-sitters over the edge of indecision.
This means your offer needs to be the focus of your message.
In your case, Google, your offer has two strong elements – the free Savings Calculator and 30-day free trial.  But, you buried them.  The calculator isn't mentioned until the second to last sentence … and your free trial is sandwiched in the middle of the third paragraph.  Next time, spotlight these in hot spots starting on the outer envelope.  Make them the centerpiece of your mailing. 
If you want more response-boosting tips, check this out.      
Your faithful fan,
Pat
P.S. If you're reading this, you've proven my point about the power of the P.S. and deserve a bonus tip.  Engaging copy is YOU focused.  This means you should outnumber I, we and your company name 2 to 1 in your copy/content.   In your letter's case, the count was upside down at 1 to 3.  There's a free tool out there called the We-We Calculator that can help you find out if your copy/content is customer focused.  Normally, I tell people to Google it; I'll save you the trouble and provide the link.
{Note from Amy: I honestly can't say enough good things about Pat.  Read her work, you'll figure out why in less than 2.2 seconds.  I guarantee it.   Pat can be reached at www.patfriesen.com.}