What Can You Learn From a Guy Who Cleans Roofs?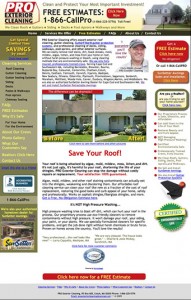 You probably don't know anything about Chris Noyes, but you might want to.
That's because his service business has grown tremendously this year, even with a slow economy — thanks to a combination of traditional direct marketing web marketing and good old fashioned customer service. Simply put, Chris is a great marketer.  There are marketing lessons in his story that can benefit every person who sells products or services, whether you are strictly web-based or not.
Chris cleans roofs.  He also cleans siding, decks, porches, walkways — almost anything on the outside of your house — using environmentally safe cleaning methods.  He also sells gutter protection systems and installs awnings.  You can see all his services on his web site, proexteriorcleaning.com.  He has plenty of competition in his area but he's scorching the competition, and "cleaning up" profit-wise, because he is tireless in following basic, smart marketing techniques:
He Asks Prospects to Take Action.  No matter where you go on proexteriorcleaning.com, you are never out of sight of a link to get a free estimate. It's in the text, in bullets, and in all quadrants. And you can get your estimate by phone or email.  (Are you asking for action or for the order enough on your site?)
Fast Response. His customers always remark on how quickly Chris gets back to them — even on weekends.  Fast response is not just convenient for the prospect, it's a confidence builder.  (How quickly do you respond to customer contacts?)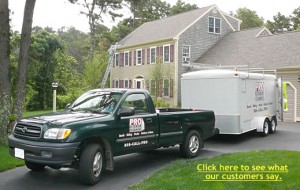 Good Response.  Chris's responses aren't just fast, though. They're good.  Whether by phone or email, Chris is one of the most pleasant, personable, easy-to-work-with people you'll ever deal with as a customer. The testimonials on his website often compliment him on his professionalism.  Lesson:  Your responses to customers — whether direct interaction, emails, or web pages — need to be good responses, not just fast. Remember, every click on your site is essentially a question.  How good, how informative, and how convincing your response is in every case will largely determine how successful you are.  (Hint: Get your navigation right, and make sure your pages answer the "questions" people are asking as they are searching.) Chris also warrants all his work unconditionally.
Discounts and Offers.  If you visit proexteriorcleaning.com, you can get special limited time savings on roof cleaning by email.  If you talk to Chris in person, chances are you'll get a discount on any particular service, or a combo discount on several services. An offer never hurts.  As Chris will tell you, though, it really pays to be flexible about offers, so you can offer one that the prospects wants. As web marketers, more of us need to be testing offers, both in email programs and on site, so that we not only know which offers are most effective, but so we can tailor our offers to suit individual prospects, or groups of prospects.  (Lesson:  Mine your customer data and sales histories.  Offer them what they are most likely to want, not just what you want to offer.)
Upsell and Cross Sell.  If you want your roof cleaned of black stains (generally caused by algae) Chris will tell you about the fungicide he can apply to your roof after cleaning it, to keep the algae from coming back.  It makes sense, it saves you money in the long run, and many customers chose it.  Also, while Chris is up on your roof, he may notice that your gutter is clogged with leaves.  Did you know that he can install a gutter protection system that can keep your gutter permanently free of debris?  (Upselling and cross selling is such basic, effective marketing, yet so few companies are doing it well. How about your site?)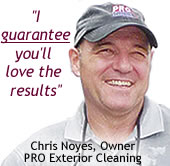 Superior Customer Follow Up:  When was the last time you got a Thank-You gift from a professional who did work at your house?  If you were Chris' Noyes customer, you would get one!  And that's not all.  Chris follows up on every job, recontacting the customer to make sure they are completely satisfied, and giving them a gift for being his customer.  But that's not all.  He also gives them coupons good for savings off future services.  And he gives them discount coupons for his services that customers can give to their friends and neighbors. His customers even get a second gift if one of the coupons they give to a neighbor results in a sale. Talk about building loyalty and repeat business!  (How are you using the opportunity an order gives you to make your customer a booster for life?)  Chris tries hard to make every customer feel pampered and special.  The testimonials he receives are proof of how successful that can be.
How Important are Those Testimonials?  In the case of Pro Exterior Cleaning, extremely important.   That's because of the way Chris has discovered his web site works for him.  Of course, he gets customers right off the web, but most people find him first from his print ads, radio ads, and promotions (such as doing pro bono roof cleaning for local charities.)  But what his customers tell him is that his web site is the "closer" — its testimonials, assurances, and  projected professionalism are what "seal the deal", making prospects choose him over the competition, and calling him for an estimate.
Then, There's His "Sideways" Marketing.  Roofers, painters and similar tradesmen often put signs out in front of the house they are working on, to get business from the neighborhood.  But Chris even goes beyond that.  Everywhere he goes, he sees roofs that need cleaning.  He's got a doorhanger that explains his services with before and after photos that he can leave for the homeowner.  He's also got a doorhanger that he can distribute ahead of time in the neighborhood where he plans to be working, literally inviting the neighbors to come down and inspect his work (which can easily be seen from the road.)  He's also got postcards that he can send out in any particular area (with his customer's permission), saying that "we just cleaned the roof at 18 Maple Street — drive by it and take a look.  If you like what you see, we're offering $50 off any roof cleaning booked in the next two weeks."  (Think this doesn't have applications for web marketing?  Think again.  Is your URL printed on your shipping boxes?  Does it appear in decals on your products, where it will be seen by the pubic.  How about the URLs for any mini-sites you have? Are you on the social media sites devoted to interests related to your product, e.g. fishing sites, gardening sites, wedding sites?  Links and URLs to your site are sideways marketing, and there are a lot of free opportunities out there. 
Now, about that roof of yours…are you plagued with black stains, lichen, or moss??? If so, I know a great solution…
This is a guest post from Dave Cleveland, one of my favorite people on the planet.  He sent me this post out-of-the-blue in an effort (more like a conspiracy) to get me to start blogging again.   Want to take bets as to whether or not it will work?