Baby Needs a New Pair of Shoes: Stilettos versus Sneakers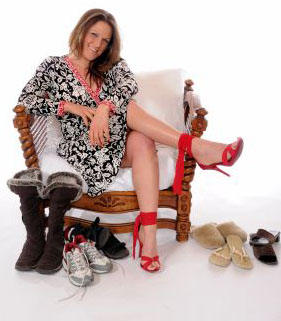 Kim Painley of Kinetic Marketing Consultants is a master of PPC…
So, I asked her to write something for the QLOG (which she did, below.) Over time, I hope to add more guest posters (yes,
Mack Collier
that's a hint) — not just because I like to spice things up a bit but also because I want you, as a QLOGGER, to have an opportunity to meet and learn from other industry folks (read: carefully vetted experts who actually know something more than how to pontificate their navels.) I mean really, why would I talk about customer care/service/love when I can get
JoAnna Brandi
to do it for me? She actually likes people! In any case, here's Kim's post….
*****
I have a twelve-year-old daughter who is totally convinced she is the center of the universe. She is also totally convinced that I can read her mind. On any given day she will ask me things like:
"Mom, do you know what I did with that thingy I had last month?"
No, I am not inserting "thingy" to stand in for a specific object. She asks me a question like this and stands there in anticipation, sure that I know exactly what and where the elusive "thingy" is. For a while I tried ignoring her, but that usually resulted in a meltdown (the hormones, after all, are kicking in), so recently I have tried a different tactic. I look at her patiently, while it dawns on her that she has asked a question that I cannot possibly answer. She rephrases the question, I answer as best I can (she would lose her head if it weren't screwed on tight, but that is a different subject entirely), and we have relative peace in the house.
Many searches start out the same way. Last month 2,740,000 typed the word "shoes" into the Google search box and hit enter. I kid you not. That's nearly 3 million people who hit the enter button in spite of the fact that Google helpfully tried to feed them a list of more specific queries. Unless you carry nearly every shoe known to man (like Zappos or Shoes.com) bidding on a general keyword like this could put you in the poorhouse in a New York minute. {Sidenote from Amy: New Yorkers are ALWAYS late. It should be a Vermont minute. Vermont minutes are 60 seconds. New York minutes depend on the transportation. If the subway is running late, 5 minutes can be forty. It's all too confusing. Vermonters are prompt and courteous and we don't have subways.}
When it comes to PPC, it pays to be patient and wait for the search query that more closely matches what you have to offer. Below are 5 tips to make your PPC program more focused and profitable:
Be specific, but not too specific. Build your Ad Groups around category and subcategory pages that have at least 6 items that meet the search criteria. Ideally you will land searchers on a page that is no more than 2 clicks away from putting something in the cart, but dropping them on a product page is often too specific. NEVER send PPC clicks to a page without navigation…it looks like a dead end (I am mystified by sites that don't show left-side navigation at the product page level…another reason not to land them there). {Amy: No need to be mystified, there are a lot of cracksmokers out there. Remember, navigation is key to your site's success. Key meaning over 50%.}
Use negatives. Make sure all of your keywords are generating the search queries that you want for that landing page. If you are running "tennis shoes" as a broad-match keyword in your account, Google can and will deliver searches for "shoes" to that keyword. Make [shoes] (that's shoes as an exact match in Google-speak) a negative unless you want searchers (mentally) seeking red stilettos to land on your tennis shoes page. {Amy: The whole negatives concept is so important to a solid PPC campaign and a lot of folks are just too lazy to do it. Don't be one of them. Honor Nancy Reagan and learn to say "no."}
Look at the Search Query Report. The Search Query Report is a terrific source of potential negatives and new keywords. If "green tennis shoes" is being delivered to "tennis shoes" and it is converting well, then "green tennis shoes" should be a keyword in your account, landing on the same page where it has been converting. If you don't sell green tennis shoes, then green should be a negative. Google is slowly expanding the number of accounts that can see every search query. It can be an enormous amount of data, but it is well worth the effort of sifting through it. The Search Query Report is useless unless you are tracking conversions through AdWords, however. If you aren't, you should be. {Amy: I am repeating the last part because it's important — if you aren't tracking your conversions through AdWords, you should be. You can and should track them in other places too but don't not track them in AdWords because you have a fancy-schmancy analytics package. It's always good to be able to verify data.}
Test landing pages. If a keyword or group of keywords is not converting well, try testing a landing page one level up or one level down before giving up on them. High bounce rates can also be an indication that a landing page test may be needed. {Amy: this is a great tip, especially the part about the bounce rates. If you are getting a high bounce rate on anything related to PPC, you need to review what you're doing very carefully. You should NOT be paying for people to come to your site only to leave immediately. That's a waste of money. Period.}
Expect your PPC conversion rate to be better than your organic conversion rate. Since you have the ability to filter out all the searches you don't want and have control over the landing page, PPC keywords should outperform organic. If they don't, you have some work to do. {Amy: in my not-so-humble-opinion, organics will naturally convert better than PPC. However, Kim is right…. if you work your PPC, you can make it convert A LOT better. The key is to working it, which very few people do.}
Please forgive all my references to shoes…yesterday my daughter asked me where her green tennis shoes were… that's after she asked me if I had seen the shoes she was wearing last week… {Amy: you only have six more years. If you can't make it that long, I recommend a trip to Colombia. When she gets kidnapped, just don't pay the ransom. That's what I do with unruly clients whose contracts I can't get out of.}