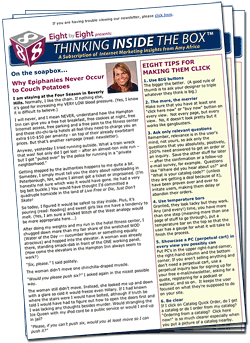 Thinking Inside the Box™
Learn about the latest Internet marketing techniques from one of the foremost experts in the field of ecommerce.
Amy has been widely published in industry magazines and is a sought-after speaker at web conferences around the globe.
Amy pulls no punches as she critiques web sites and emails for their effectiveness and usability. You'll be constantly entertained and enriched as she presents proven online marketing techniques with her signature wit and engaging sense of humor.
Here's what Amy's Internet marketing insights have done for countless ecommerce businesses:
Increased their site traffic without spending a fortune
Helped to design a navigational structure that works
Improved the effectiveness of their homepage
Created a more efficient shopping cart and checkout process
Boosted sales dramatically with aggressive email marketing
Simplified reporting and performance measurements
Sign up and receive 18 of Amy's proven marketing tips!