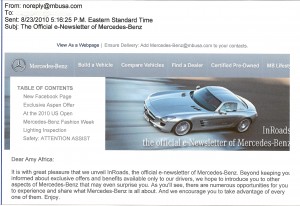 There are many things that influence the success of your thrusts and triggers. Most of those things happen "outside the envelope." (In other words, before the user opens your e-mail.)
One of the most important is the "from" address. Things like format have an impact on deliverability, but users don't understand things like format. They only know that their images are broken. (Translation: they can't see them.) What they do understand is to whom the e-mail is addressed, who/where it's coming from and the subject line.
Mercedes makes a lot of errors with their "from" address. First off, it's noreply@mbusa.com. Seriously, no reply? It's bad enough that it's mbusa.com but no reply? What kind of name is that? He must be related to Pig Will and Pig Won't from Busytown Mysteries.
To add insult to injury, in one of the first lines of their e-mail, they state "Ensure Delivery: Add Mercedes-benz@mbusa.com to your contacts. Yeah, so if you are going to ask me to whitelist you, you might want to use the address you want me to whitelist you for. I mean really. (No, it wasn't cloaked or redirected.)
Bottom line: "From" addresses are important. You should use a "from" address that your users recognize and would like/expect to hear from.
BONUS TIP: If you are going to test your "from" addresses – you should test ONLY mailing new-to-file names first. Then, you can test the winner against the control.  Otherwise there's too much bias.  You can account for it, but it's way more difficult than it appears and seldom worth the drama.