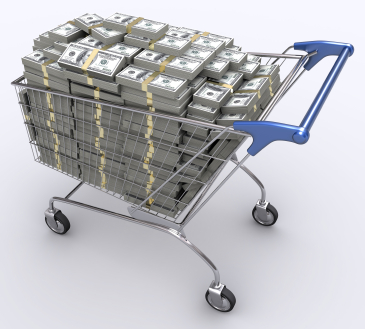 This is part 4 of a 5-part series.  Part 1 can be found here.  Part 2 can be found here.  Part 3 can be found here.  Part 5 can be found here.
21. Offer a guest checkout.  This is a must-have for EVERY checkout.  Why? Generally speaking, about a quarter to a third of your users will prefer a guest checkout even if they have ordered before or are registered at your site.  Why? Because sophisticated users think it's faster.  (Sophisticated users are people who do a lot of ordering online.)  Offering a guest checkout improves overall conversion and it reduces abandoned carts.
22. Determine whether or not you need a View Cart page.  The View Cart page is a landmine for a lot of ecommerce companies and frankly, it's not always a necessity (especially if you don't have a lot of items per transaction.)  Test whether or not you need one.  If you need one, figure out how you can reduce your abandons on it by simplifying the page, using exit pop-ups, using live chat/help, etc.
23. Speaking of View Cart pages, are you upselling on your view cart page?  It may not be the place for it.  Upsells in the cart can add 15-30% to your order if you position them properly.  Sometimes they work on the View Cart page and other times, they increase your abandons.   You won't know till you start test it.  Don't know where to test first?  After the Welcome Page or before/after the payment page are good places to start.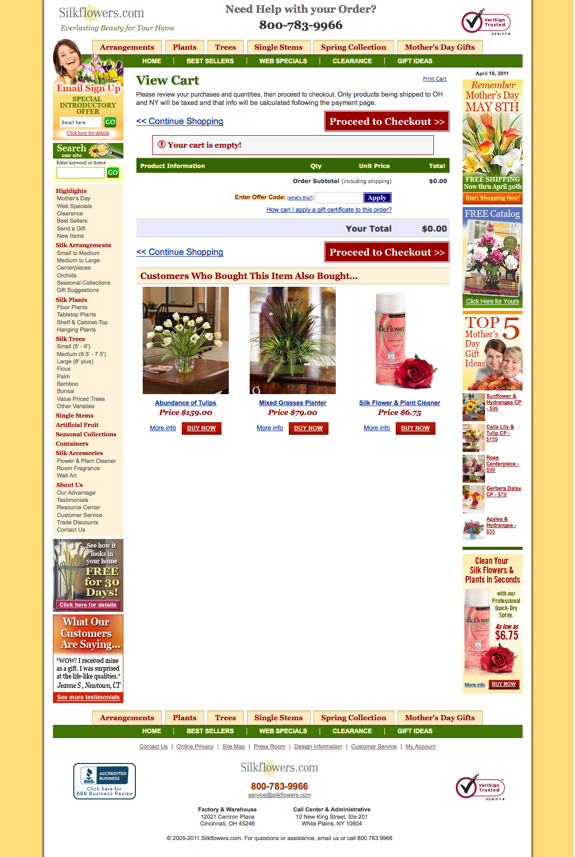 24. Reduce/limit navigational elements in the checkout.  Too many carts have all sorts of distractions – checkouts are not the place to give people reasons to leave – you want to keep them focused on THE goal which is to complete their order.  Streamline your navigation to keep only the things users MUST HAVE to complete their order.
25. Show payment method icons.  Use the MasterCard, Visa, American Express, Discover, etc. logos.  Put them in the order of importance. (In other words, rank them by your visitors use.)
26. Collect secondary email addresses.  It should be an optional field (do NOT require it) but try to obtain an additional email address.  You should get about 30% of the people to give you an alternate address.  (Great for testing thrust and trigger emails!)
27. Collect mobile numbers and ask if you may text message them.  You may not know how to use text messaging now but there's a very BIG chance that you will so now is the perfect time to start capturing them!
28. Test proactive (instigated) chat.  Chat will work in your checkout.  It takes time but it will work.  (You really need to give it 6-9 months before you start making judgments on its efficacy.)  You can start with either live chat (where the customer contacts you) or instigated chat (where you contact the customer.)  Most companies find that it's easiest to control instigated at the beginning because you can be there when you want to be (or when you have capacity.)  The key to making any kind of chat work is to put the right reps on it – assigning your best customer service people to chat is often a colossal bomb.  Just because someone is fantastic at chatting on the phone doesn't necessarily make them a good writer or an efficient salesperson.
29. Can't handle any kind of chat right now?  At least try Click To Call.   Remember, for the most part, web people want to place their order online without impediments.   When your website is "broken" (users think anything that doesn't work the way they think it should is "broken") users will give you one last shot – that's why it's beneficial to put your phone number and email address all over the place.  Click To Chat is one of those last-chance kind of things.
30.  Speaking of calls, test abandoned cart telemarketing.  No, you don't need to do it on every order.  Start with your largest orders and work backwards.  (This tends to be a HIGHLY profitable strategy so there's a big chance that your program will keep expanding.)