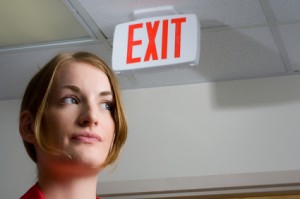 Beth Kotowski asks: "Why are you so obsessed with exit pages? No other consultants ever talk about them.  Are you behind the times or do you see value in them that others don't?"
Good question.  I know they are not sexy but exit pages are still one of the very first things I look at before I do a site critique.  Why?  Because they're often one of the easiest ways you can identify what's wrong with a site. 
Here are 4 things you need to know:
1.  What are your top ten exit pages?   Top five? Top one? Those are the pages you need to look at and/or fix first. Every company needs to find it's own conversion levels, but a good rule of thumb is that no single page (with the exception of confirmation pages) should account for more than 10% of your exit traffic.
That's not a global rule (meaning that not everyone can follow it). However, you can easily determine benchmarks for your own site(s). If you have an extraordinary amount of people leaving from a particular page, chances are that page needs work. (You're either getting the wrong traffic or giving the wrong sales pitch – there aren't a lot of other choices.).
2. How many exits does your premier entry page (often referred to as a 'home page') have?   How long are people spending there? If you are getting a lot of traffic that suddenly makes a hasty exit, chances are that traffic shouldn't have been on that page in the first place. You need to check that.
On the flip side of the coin, if they're coming to your home page and then spending oodles of time (meaning more than a minute) on that page, your navigation probably needs improvement.  (The amount of time that a user spends on the first page they land on almost always tells the story of how they will act and what their propensity to buy (or do) will be.
3. Where does text search fall in your exits?   Unfortunately, for most companies, it's usually at the top and it's, by far, the most difficult thing to fix. About half of the companies I've seen wouldn't need text search if they had solid C-Navigation. (C-Navigation is top, bottom and left-hand navigation.) Those companies are usually service companies or businesses with just one or a couple products. If you fit in that category, ask yourself… What will happen if we get rid of text search altogether?
If you're a company that needs text search, you need to figure out where people are exiting.
Is it on a no-find page? (where you don't have any results.) Those are the best places to add "if you can't find what you're looking for, here are some products you may be interested in…"  messages, along with your most popular products that EVERYONE needs.
Or is it on a successful search results page? It cracks me up when someone tells me that they have the perfect search. Even with my favorite search tools, there's really no such thing as the perfect search. Users aren't smart enough to make your search function look good.
But I digress.  A lot of times users leave on "successful search" results pages meaning that your search probably wasn't so successful. Explore your search and its direct relation to your exits in detail. It will be one of the best investments you make.
4. Do you REALLY need a particular page?   I've found that often times, users leave from category-like pages – pages where they can't do anything so I try to determine…. Do we really need that particular page? What will happen if we don't have that page? If we got rid of it altogether?  If we must have that page (and sometimes it's a must), how can we make it better?  Does it have Buy Now/Add To Cart buttons on it?  If you're not an ecommerce site, can you inquire or get a quote from it?  (If your goal is to get people to raise their hands, you have to ask them several times per page.  Best case scenario: at least once in every quad.)