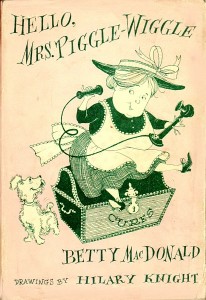 Yesterday, I spent $624.17 in a bookstore.  The old school bricks-and-mortar kind where you can actually touch and feel the books.
If I had bought the same books on Amazon, I would have gotten them for under $400.00.  ($363.20 to be exact.)
I read everything on my Kindle, my iPad, my Tablet, my Droid, my iPhone, sometimes even my BlackBerry but unless the publisher isn't selling an ebook version or it's a cookbook, I rarely buy "paper" books any more.   Except for the tiny terrorists.   They get REAL turn-the-page books.
However, this post isn't about how much I overspent or my nephews — which according to the missile mail I got last week, I talk about FAR too much.  Cute considering blue moons come along more than I blog as of late.  But I digress….
I was waiting to meet a friend for lunch.  I was early and since he is Iranian (translates to he will undoubtedly be at least 45 minutes late at all times) I knew I had some time to kill so I wandered into a small children's bookshop.
The place was cluttered and just-a-little-bit-dusty in a magical sort of way.  There were all sorts of nooks and crannies filled with overflowing beanbags and little chairs.  There was a tot-sized stuffed animal tea party going on in the back.  The entire store was dotted with colored 3×5 index cards with handwritten reviews.  And the owner, a doppelganger for Angela Lansbury,  had a pink name tag on that said "Mrs. Piggle-Wiggle," one of my favorite children's book characters.  (I still have my Mom's copies of the Mrs. Piggle-Wiggle books from when she was a child.  Yes, Sherry Chiger, I do have a mother.)
It was absolutely perfect.
"Mrs. Piggle-Wiggle" spent about an hour helping me find new children's books.  I told her what my nephews liked and she found all sorts of things for them.   The boys have a lot of books so for every 10 books she showed me, there were about 2-3 I didn't think they had.  
I read the first six books she suggested and then I just took whatever I thought was missing from their collection and added it to my stack.  I totally trusted her recommendations.  The quaint little lady who smelled like lemon and gingersnaps knew exactly what she was doing.
When I went to checkout, I gave her my credit card and asked her if she could keep my number on file and just send me new books every month.
"Why would I do that?" She inquired in earnest.
"Because I love your recommendations and it'd be great to send the boys a surprise package of books each month that have already been pre-approved."
"That's a lot of work." She said in a somewhat exasperated voice.
I looked at her and smiled.
I wanted to explain to her that another $300-$400-$500-$600 (or whatever) order a month was a lot of money – especially since she DIDN'T DISCOUNT A PENNY and WAS MAKING FULL PRICE ON THE BOOKS.  (Not to mention I had been the ONLY one in the store for the better part of an hour — at lunchtime on a very busy street.)
Or that the UPS store was just two doors down and she could basically drop off the books with our account information and they'd take care of the rest.
Or a bazillion other things that would help her make money. 
But I knew it was a lost cause.  Mrs. Piggle Wiggle knew her children's books but things like deploying triggered emails and mailing packages were way outside her comfort zone… and her scope.  Her strategy was, in her words, "to keep hoping for the best."
Haven't we already proven this hope stuff is sort of depressing? 
Customers tell you what they want all the time.  They tell you what would make them happy and how they would spend more with you if they could.  Sadly, most of us choose to ignore it.
What would happen if you didn't?  What would happen if you tried a bunch of new things to see which one(s) worked so you could add them to your arsenal?
Chris Hansen co-owns a company called Great Garden Plants.  His business is growing like weeds, er,  gangbusters while the other behemoths in his industry are falling and failing.  Why?  Because he's always asking his customers what he can do to make their gardens better.  He's not like me – he doesn't say "I want to sell you more stuff" – he says "what do you need that I am not offering?  What problems are you having in your garden (i.e., are the deer eating your trees?) that I can solve?  What favorite things are you not growing because you think you can't – I know I can find something similar that will work for you."
Great American Business Products is a much larger company and they do the same thing.  Take their Convenient No-Hassle Refill Program for example.  You pick the products you want to receive on a regular basis and they'll automatically ship them to you FREIGHT-FREE on your schedule.  They guarantee you'll never run out and that you won't get price increases.  Their overworked-and-often-frazzled customers LOVE it — they lock in the product AND the savings and they lock out the stress!
Stave Puzzles customizes your puzzles JUST FOR YOU – not just in the level of trickiness but in the pieces too – you can get different shapes, different words, different whatever in your puzzles.  (As an aside, they are my VERY favorite puzzles on earth.)  Eastwood offers instructional product videos.  Stonewall Kitchen and King Arthur Flour both have recipes.
What are YOU doing?  How are you listening? 
P.S. Remember, for every 10 things you try, you only need a couple to work.