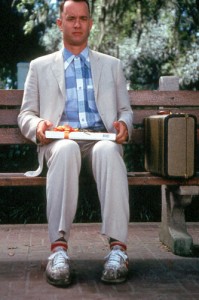 It drives me crazy when Forrest Gump says that "life is like a box of chocolates, because you never know what you're going to get." What in life is as knowable and safe as a box of chocolates? You might not know if the filling will be caramel or a goopy cherry, but you know you're getting BITE-SIZED CHOCOLATES IN ASSORTED FLAVORS, and you can look at each one for many more clues. 
When your brain (yes, I am talking to YOU) processes any new piece of information, it asks itself a series of questions…
Can I eat it?
Can it eat me?
Can I mate with it?
Can it mate with me?
Have I seen it?
Have I never seen it?
That's right….  Have I seen it?  Have I never seen it?
This is critical to your website.
In my speeches (you know, the ones I used to do before I got tired of hearing myself talk), I spend a lot of time discussing grocery stores.  When you go to Piggly-Wiggly in South Carolina, Hannafords in Maine, Safeway in Seattle, or Kroger in Texas, you know that the milk is going to be near the eggs.  You know that the bananas are going to be near the apples.  And you know that the ice cream will not be on the shelf in the dog food aisle.
You know this because supermarkets are FAMILIAR.  Sure, there are differences in the end-caps and signage, but for the most part, grocery stores are all the same.  You've seen one, you've seen 'em all, right?
Why is this important?  It's critical because when your brain recognizes something as familiar, it knows whether or not it's safe.  If you don't need to evaluate whether or not something poses a danger to you (meaning your brain can skip that entire step), you can start to interact faster. 
On the web, faster interactions typically equal greater conversion, more adoption to cart/lead form and thus, more sales/profits.
Companies send us RFP's all the time for complete redesigns.  They're bored with their websites (or some new VP comes in and wants to mark his territory) and thus automatically think their customers are too.  Not only is that NEVER the case but it's also VERY dangerous to start demolishing everything familiar. 
You need to make changes?  Refresh.  Don't completely redesign.  That way when the user asks himself "Have I seen it?" he'll be able to say "yes" and move right along to the important things.  You know, the ones that make you money.
Amazon is the perfect example of a company that constantly makes little, but VERY significant, changes.  Over the years, they've added all sorts of bells and whistles to their site.  Do you notice at first glance though?  Not likely.  Why?  Because the look and feel is virtually the same as it was the last time you were there.  Same colors. Same layout.  Same search in the same place.  Amazon's website has changed (for example, the recent addition of the flash cart) but it's still comfortable… and familiar. 
So next time you're tempted to overhaul your entire website, just rearrange a couple of the chocolates in the box instead. Or as the Southerners say, "Don't move just because you need to clean house."