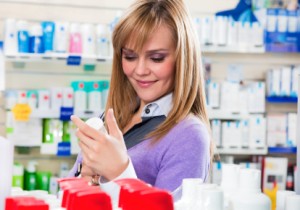 Yesterday, as I was barreling through the drugstore, a woman blocked me in the vitamins/supplements aisle.
"How many of these do I need to take a day?" she yapped.  "I didn't bring my glasses and the print is too small."
I looked at the bottle.
The print may indeed have been too small on the back of the bottle but it was clear as day on the front and it said…  Wait for it… 
"Seven." I replied as I ducked underneath her T-spread arms and whipped past her.
"Seven?  Really?  That's not a very good value.  I guess the metabolism boost costs extra."  She lamented with a great big sigh.  (And no, I have no idea how the metabolism boost related and I wasn't about to ask.)
I turned my head to watch her hesitantly put the bottle back on the shelf.
For a minute, I thought about leaving her there stranded but then I felt bad.  It wasn't her fault that her parents hadn't been forcibly sterilized.
"I was joking." I said half-heartedly.  "The vitamins are called One A Day and their selling point is that you only need to take one small vitamin a day."
"Oh, that's fantastic!  Just what I wanted to hear!  They are Buy One Get One FREE right now, you know?" She yammered enthusiastically as she happily placed two bottles in her little red basket.  "Thanks for your help.  Next time I promise I will remember my glasses!" 
In real life, there are a lot of people who go into the dollar store and ask what the price is of every item.  Sadly, in the online world, there seem to be even more wackadoodles.
Here are four things you can do to find them (the 3 French Fries short of a Happy Meal folks, that is) — so you can help them.
1. Look at your exit pages.
  I've talked ad nauseam about
exit pages
— in fact, they seem to be one of the few things I am interested in blogging about.  Reason being: they are one of the things that you must look at and most people don't because they're not very sexy.  Your exit pages list tells you where the majority of people are leaving.  It's your best weapon for dusting the seats of the Titanic.
2. After you've identified your exit pages, look at the most popular ones.  Then check out how much time the user is spending on them before they exit.  If the user is spending more than 30 seconds on an average page, they may need help.  (Instigated chat works wonders here.) 
3. Look at your bounce rate.  Many consultants dismiss bounce rate as not valuable because they don't know how to correct it.  (You won't get money for things you don't know how to fix.)  There are two primary reasons why people leave immediately from your site — (1) they shouldn't have been there in the first place (bad traffic) or (2) there's a disconnect that happens in the user's brain wherein they literally do not know what to do next.  (I'll talk more about that in an upcoming post.)  Have a high bounce rate?  Consider using catfishes or sidewinders on entrance.  Look at pop-unders and midis on exit.  If you get a lot of direct/no referrer traffic, look at directing them to a different page.  (This is one of the best tips you'll ever get.)  
4. Look at what words people are using in your text search.
  If your navigation sucks, there will be a lot of dependence on text search.  (There's more on this
here
.)
Users often need a little help.  As your site's zookeeper, it's your job to provide it.
Sign-up today for our Thinking Inside the Box newsletter.  It's FREE and you can unsubscribe any time.  Did I mention it was FREE?