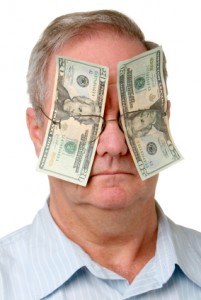 It amazes me how many companies still don't have abandoned cart programs.
Sure, a lot of folks send out ONE e-mail but an e-mail is not a program. A single e-mail is just so, well… half-hearted.
Your abandoned cart program should start the minute people leave your checkout with a pop-up. If you are morally (cough!) opposed to pop-ups, you can use a midi or a catfish, just make sure you use something. The purpose of the pop-up is to collect the user's e-mail address. If you already have their e-mail address, you don't necessarily need to use a pop-up although many companies have found that the "STOP! You still have xx items in your cart!" does prevent a significant group of site visitors from leaving. (By the way, pop-ups are completely dependent on creative — so if your copy and art is not compelling, your pop-ups won't work.)
After you've collected the user's e-mail address, it's important to dump them immediately into your abandoned cart e-mail program.
The best abandoned cart e-mail programs are a series of 5-6 (often times more) e-mails. As with most triggers, most of the success of your abandoned cart e-mail will come from the things "outside the envelope." This includes the to address, from address, subject line, preview panel, format and deliverability. Inside, it's important to make the e-mails look as one-to-one as possible. Personalize the e-mail with their name and the contents of their cart, if you can. (This works well with thumbnails.)
It's important that you put the phone number in your e-mails several times. The abandoned cart  e-mails that work have big action buttons (RETURN TO MY CART NOW!) and lots of phone number plugs.
Whether or not you use an offer is up to you. Offers work — mostly because deadlines create urgency and cause people to focus — but you definitely don't have to use them to have a good abandoned cart program. If you are going to use offers, you don't need to use them on the first couple of e-mails. You can but they will work just fine sans discount/bonus. (If they don't, you need to tweak your messaging.)
Timing is one of the most important variables when it comes to abandoned carts. You should definitely test the timing as every company has it's own magic formula for what works. However, if you need a place to start, send out the first e-mail immediately (within 2 hours.) Send the second out in 24, the third out in 48, the fourth out in 5 days and the fifth out in 7-8 days. Review the results in 10-14 days and adjust accordingly.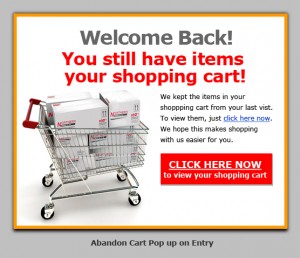 What happens when the user comes back? One of the best techniques is to offer a catfish or a midi reminding the user that there's something in their cart. You can also test taking the user directly to their cart but often times it won't work as well as a catfish or a midi likely because your checkout doesn't look the same as the rest of your site. (Familiarity is very important to users.)